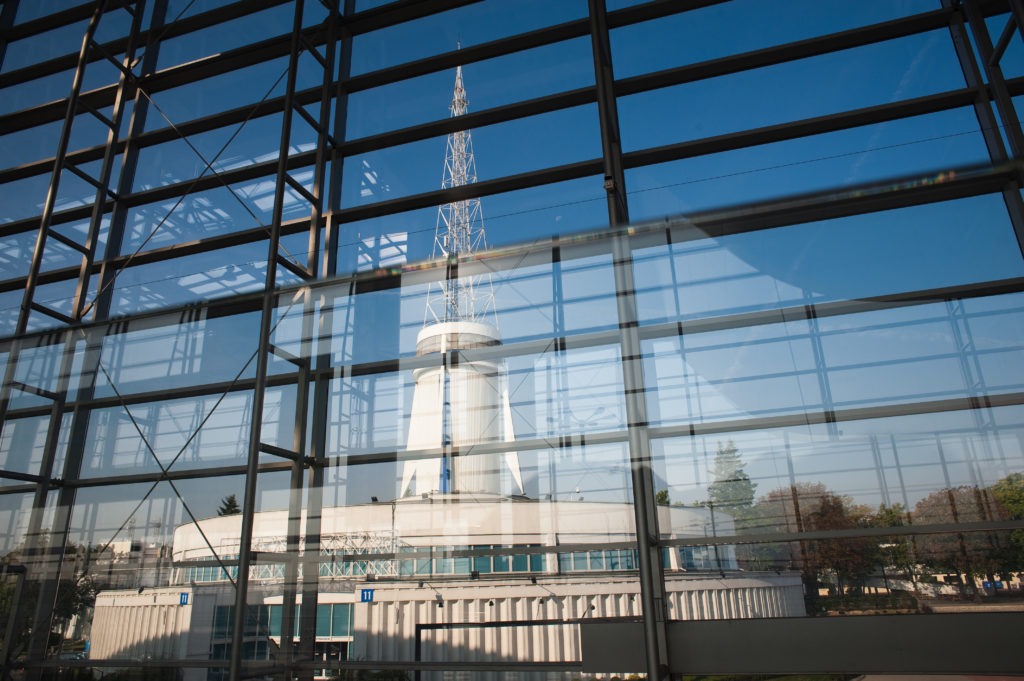 Poznań City Hall's archive, photo. M. Forecki
In 2017, 76 international trade fairs and showrooms were visited by 711.2 thousand people.
Poznań Convention Bureau
Support for the organisers of numerous conferences organized in Poznań was provided by the Poznań Convention Bureau (PCB), which acted as a co-organizer and co-ordinator of events related to business tourism, and in 2017 collaborated in organising approx. 30 different conferences. In 2017, the PCB has launched the "News" section of its website, which publishes current information about the local tourism market.
Poznań International Fair
Międzynarodowe Targi Poznańskie sp. z o.o. (MTP), in which, from 2015 onwards the City of Poznań has held 100% of shares and is ranked 1st in the fair market share rankings of trade fair organizers in terms of total exhibition space sold, the number of exhibitors, and the number of visitors.
In 2017 MTP had at its disposal 365.3 thousand m2 of sold space, which gave them 46.3% share in the fair market of fair organisers in terms of total sold exhibition space, 34.3% share in terms of the number of exhibitors and 44.7% in terms of the number of visitors.
In 2017, 76 international fairs and exhibitions were organized, with 9.1 thousand exhibitors participating, including 1.6 thousand exhibitors from abroad. The fair was visited by 711.2 thousand people.
The area sold in 2017 amounted to 365.3 thousand m2 (including 337 thousand m2 of covered space and 28.3 thousand m2 of open space) and was 17.2% lower than in 2016 (some trade fair events take place on a biennial basis in even and odd years).
MTP organised 14 foreign presentations in Berlin, Dubai, Hannover, Cologne, London, Moscow, Rimini, Santa Clara, Sao Paulo and Shanghai. More than 40 exhibitors and sub-exhibitors took part.
The largest fair events organised in 2017 at the MTP fairgrounds according to the size of the exhibition space sold:
Meble – 25,486 m2
Drema – 23,572 m2
ITM – 23,379 m2
Budma – 22,862 m2
Most visited trade fairs in 2017:
Motor Show – 111,696 visitors
PGA/Hobby/Happy Baby – 54,466 visitors
Budma – 30,886 visitors
Targi Edukacyjne – 32,800 visitors
Poznań Sport Expo – 31,363 visitors
Gardenia/Special Days/Sport Incest – 26,274 visitors
Poznan Congress Center
Poznań Congress Center (PCC) is one of the largest and most modern congress centres in Poland. The PCC has a modern, multifunctional plenary room – the Earth Hall – and 69 well-equipped, high-standard conference rooms – with various options for their arrangement.
In 2017, the PCC organised 207 events. The largest and most prestigious events organized in 2017 included:
XVIII Zjazd Naukowy Polskiego Towarzystwa Diabetologicznego ("The 18th Scientific Congress of Diabetes Poland")
Top Medical Trends
Targi Ślubne ("Poznań Wedding Fair")
IX Kongres Kobiet ("9th Congress of Women")
Spotkanie firmy Heidelberg z okazji 25-lecia ("Heidelberg 25th Anniversary Meeting")
PKO Poznań Marathon
Bricomarche Trade Fair
Pyrkon
Targi Mieszkań i Domów ("Residential Property Fair Poznan")
26. Środkowoeuropejska Wystawa Produktów Stomatologicznych ("26th Central European Dental Exhibition")