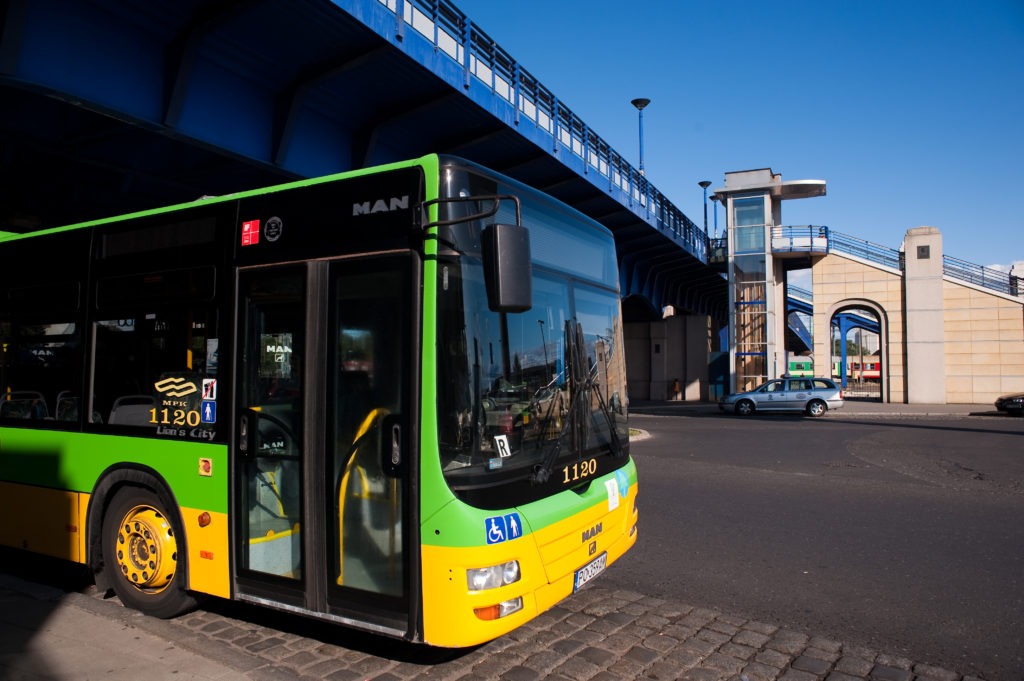 Poznań City Hall's archive, photo. M. Forecki
At the end of 2017, the number of registered users of the PEKA system amounted to 561.8 thousand.
The Public Transport Authority (Zarząd Transportu Miejskiego – ZTM) organises collective public transport in Poznań.
In implementing inter-municipal and inter-communal agreements, ZTM is also responsible for organising public transport in the Poznań Metropolitan Area, thus integrating it by providing a transport service connecting the suburban area with Poznań. The work carried out in 2017 resulted in the integration of public transport in the city of Poznań with that in the Kleszczewo commune, which took place on 1 November 2017. As a result, the area where ZTM organises public transport was enlarged once again (18 communes and 60 suburban lines in 2017).
In 2017, bus and tram services were provided in Poznań by Miejskie Przedsiębiorstwo Komunikacyjne sp. z o.o. (MPK) on commission of ZTM.
Electronic Poznań Agglomeration Card (Poznańska Elektroniczna Karta Aglomeracyjna – PEKA)
Electronic Poznań Agglomeration Card is a tool for coordinating public transport in the Poznań agglomeration and the main element of a modern IT system. It is supposed to unify the system of payment for passenger transport provided by various independent carriers operating in the city of Poznań and the Poznań poviat, thus facilitating the use of public transport and increasing its availability.
At the end of 2017, the number of registered users of the PEKA system was 561.8 thousand and was higher by 12.8% compared to 2016.
The PEKA card serves the following functions:
season, network or fixed-route ticket
tPortmonetka – payment for public transport trips (one-time tickets) and parking in the MPA in Jeżyce and in some of the parking meters located in the city centre
can be recharged via the Internet
digital ID
library card in the Raczyński Library in Poznań
unqualified electronic signature
MOPR (Municipal Family Assistance Centre) application – uploading the number of meals on the card to be eaten in Społem bars.
The PEKA system enables introducing a more flexible ticket offer. The minimum period of validity of network and fixed-route tickets is 14 days. Each passenger can customise his/her ticket validity to his/her own needs – up to 366 days in the case of network tickets and up to 90 days in the case of fixed-route ones. The affordable Metropolitan Ticket is a special offer for people who live in Poznań or a municipality covered by the inter-municipal agreement and pay taxes to the City of Poznań or this municipality.
At the end of 2017, customers could choose from 297 points of sale (2 more compared to 2016) and 86 stationary ticket machines, adapted to handle the new system (9 more than a year before).
17.6 million – the number of tickets sold in public transport in 2017 was slightly higher (by 0.05%) compared to 2016
PLN 3 – this is the fare for covering the distance between 5-7 stops in the time tariff or between 11-12 stops in the tPortmonetka tariff
Bus-tram-railway tickets
In 2017, 65 thousand bus-tram-railway tickets were sold, i.e. 17.5% more than a year earlier.
Since 1 September 2017, bus-tram-railway tickets have been available in a formula which is more attractive for passengers. The offer has been extended to cover an area of about 50 km away from Poznań Główny station. The area where the ticket is valid is divided into 7 tariff zones of Przewozy Regionalne (POLREGIO) and Koleje Wielkopolskie (rail carriers), marked with A, B, C, D, E, F and G. Terminal stations for particular directions are as follows: Wągrowiec, Gniezno, Września, Jarocin, Kościan, Grodzisk Wlkp., Nowy Tomyśl, Wronki, Rogoźno Wlkp.
At the same time, holders of a valid ZTM season network ticket, zone A, were offered yet another means of transport – they can travel around Poznań not only by buses and trams along lines organised by ZTM, but also by POLREGIO and Koleje Wielkopolskie, between stations with 'Poznań' and 'Kiekrz' in their names.
Modernisation of rolling stock and infrastructure
Public transport rolling stock
In 2017, 22 new trams were delivered to Poznań:
12 unidirectional MF 20 – Moderus Beta ones
10 bidirectional MF 22 – Moderus Beta ones.
Modernisation of infrastructure
In 2017, Miejskie Przedsiębiorstwo Komunikacyjne (MPK) (municipal transport company) carried out modernisation works on selected sections of tram routes. The most important ones included:
modernisation of the Słowiańska rectifier station
replacement of the MV-15 kV cable line between the Głogowska-Pamiątkowa rectifier station and replacement of traction cables from the Traugutta station
extension of the Lechicka substation with a third power unit with additional cabling
construction of a traction power network and traction cables in Zwierzyniecka and Kraszewskiego Streets (from the intersection with Gajowa Street to the intersection with Szamarzewskiego Street)
reconstruction of a trackway – Królowej Jadwigi Street and bridge from Strzelecka Street to the end of the bridge, replacement of the trackway structure in Krzywoustego Street from the end of Królowej Jadwigi bridge to Rataje Roundabout, and in the section from Strzelecka Street to Górna Wilda Street
reconstruction of the trackway in Matyi Street under the pedestrian crossing at Wierzbięcice sto
reconstruction of the tram tracks at the intersection of Warszawska and Krańcowa Streets
reconstruction of the tram tracks at the intersection of Armii Poznań and Winogrady Streets.
In 2017, application documentation was prepared and contracts for co-financing with European Union funds were signed for a total amount of almost PLN 265 million for the following projects:
"Improvement in traffic conditions along national road No. 92 in Poznań" (date of the contract: 5 April 2017)
"Reconstruction of the tram route: Kórnicka – Lecha neighbourhood – Żegrze Roundabout along with the construction of the section from Żegrze Roundabout to Unii Lubelskiej Street" (28 June 2017)
"Reconstruction of the tram route along Dąbrowskiego Street" (3 March 2017)
Construction of a Park&Ride car park system in Poznań – stage 2" (29 September 2017)
"Reconstruction of the trackways along Wierzbięcice and 28 Czerwca 1956 Streets) (3 October 2017)
Construction of a tram route from Wilczak terminal station to Naramowice in Poznań" (28 December 2017)
"Correction of the operation of the traffic plan around Rataje Roundabout" (29 December 2017)
Bus lanes
In 2017, new bus lanes were delimited along Grunwaldzka, Garbary, Mostowa and Warszawska Streets, thus increasing their length by 15.3 km. The new bus lanes are designed not only for buses, but also for taxis, cyclists, municipal services, motorcyclists and carrying at least three people. Similar solutions have already been introduced in many cities in Europe to encourage people going to work from the same direction to travel by one car instead of three or four ones, reducing significantly the number of cars in streets and traffic jams.
The length of bus lanes in Poznań and in other large Polish cities
| | | | | | |
| --- | --- | --- | --- | --- | --- |
| km | 2013 | 2014 | 2015 | 2016 | 2016/2013 in % |
| Poznań | 6 | 6,7 | 6,9 | 9 | 150,0 |
| Kraków | 23,7 | 23,7 | 25,2 | 26,8 | 113,1 |
| Łódź | 10,7 | 18,9 | 18,9 | 25 | 233,6 |
| Warszawa | 48 | 48 | 48 | 48,5 | 101,0 |
| Wrocław | 21,5 | 21,5 | 21,5 | 25,3 | 117,7 |
Source: CPolish entral Statistical Office
Resource sharing system
Since 2017, residents of Poznań have been offered the opportunity to rent scooters and cars for minutes. Users of vehicles within the car sharing system pay reduced prices for parking in MPAs.
Transport projects
The City of Poznań participated in the following EU projects:
LAirA – Landside Airports Accessibility – aimed at enabling multimodal transport in areas around airports in Central Europe
SULPiTER – Sustainable Urban Logistics Planning to Enhance Regional freight transport.
The LAirA project is implemented under Interreg Central Europe to ensure better accessibility of multimodal transport in the area of airports in Central Europe, in particular through an integrated and smart transport policy focused on low-emission vehicles. The project is designed to reduce the degradation of natural resources and reduce energy consumption. Its main objective is to define transport preferences of airports' employees and passengers, and to develop a low-emission transport policy within the city.
In 2017, two project studies were developed: analysis of transport accessibility to the Ławica airport and analysis of strategic documents and mobility plans with respect to the relationship between the airport and the agglomeration area. Cooperation with external stakeholders (Poznań-Ławica Airport, Poznań University of Technology) was initiated.
The SULPITER project is implemented also under Interreg Central Europe.
The project relates to sustainable logistics planning for cities and regions. The project is to:
understand the mechanisms functioning in urban logistics
improve freight transport planning and modelling skills
cooperation between the public and private sectors under the Freight Quality Partnership concept
create a Sustainable Municipal Logistics Plan as the main strategic document for freight transport.
In 2017:
representatives of the City of Poznań participated in two international meetings of the project partners – in Poznań and in Trieste (Italy)
surveys with business entities in Poznań regarding the specific characteristics of the flow of commodities in the urban area were conducted
cooperation under the FQP was initiated (a task that is part of the project involving the launch of cooperation between representatives of the public and private sectors).